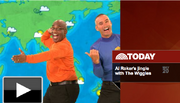 Al Roker (b. August 20, 1954) is the honorary orange Wiggle. He is most commonly known for being a weatherman on the TV in the US. He sings Thank You, Mr. Weatherman with The Wiggles in the American release of Ukulele Baby! in replace of Hey, Hey, It's Saturday (which guest starred Australian television host Daryl Somers). The video and song was released in Australia for The Wiggles' Big Birthday CD and DVD.
Apperences
Gallery
Ad blocker interference detected!
Wikia is a free-to-use site that makes money from advertising. We have a modified experience for viewers using ad blockers

Wikia is not accessible if you've made further modifications. Remove the custom ad blocker rule(s) and the page will load as expected.