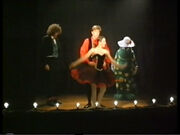 Ballerina, Ballerina is a song from The Wiggles Movie.
The guitar is added on the soundtrack version.
Origins
John Field wrote this song about ballerinas.
Production
Roger Lemke sings while Paul Paddick provides the backing vocals, Murray Cook plays the bass, Terry Murray plays the acoustic guitar, Jeff Fatt plays the piano]], Maria Schattovits plays the violin, Angela Lindsay plays the viola, Margaret Lindsay plays the cello, and Dominic Lindsay plays the trumpet.
Song Credits
1997 Version
2015 Version
The Wiggles Meet the Orchestra Version
Musicians
The Wiggles Movie Soundtrack
The Wiggles Movie
2015 Version
Song Lyrics
Ballerina, Ballerina
Ballerina, Ballerina
Pirouette, temps le ve, Pas de chat
Et Fouette, Et Foutette

See the dancing ballerina
See her jump in the air
Soubre, sauts, et Aventre chat, Allegro,
Allegro, Allegro
Pirouette, temps le ve, Pas de chat
Et Fouette, Et Foutette
Et Fouette, Et Foutette

Video Appearance
Album Appearance
Ad blocker interference detected!
Wikia is a free-to-use site that makes money from advertising. We have a modified experience for viewers using ad blockers

Wikia is not accessible if you've made further modifications. Remove the custom ad blocker rule(s) and the page will load as expected.