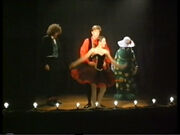 Ballerina, Ballerina is a song from The Wiggles Movie.
Song Credits
1997 Version
2015 Version
Emma! Version
Music and Lyrics: John Field
Arrangement: Anthony Field, Lachlan Gillespie, Emma Watkins
Producer: Anthony Field
Engineer and Mixer: Alex Keller
Recording Location: Hot Potato Studios
Publisher: Wiggly Tunes
Copyright: Universal Music Group
The Wiggles Meet the Orchestra Version
Musicians
The Wiggles Movie Soundtrack
The Wiggles Movie
Vocals - Roger Lemke
Backing Vocals - Paul Paddick
Dorothy's Voice - Carolyn Ferrie
Bass - Murray Cook
Keyboard: Jeff Fatt
Violin: Maria Schattovits
Viola: Angela Lindsay
Cello: Margaret Lindsay
Trumpet - Dominic Lindsay
Sound Effects - Hanna Barbera Sound Ideas
2015 Version
Emma! Version
Vocals: Emma Watkins
Bass: Alex Keller
Guitars: Anthony Field
Piano and Glockenspiel: Lachlan Gillespie
The Wiggles Meet the Orchestra
Vocals - Simon Pryce
First Violins - Peter Edwards, Sarah Curro, Jacqueline Edwards, Peter Fellin, Deborah Goodall, Lorraine Hook, Cameron Jamieson, Kirstin Kenny, Ji Won Kim, Eleanor Mancini, Anne Martonyi, Michelle Ruffolo and Kathryn Taylor
Second Violins - Matthew Tomkins, Monica Curro, Isin Cakmakcioglu, Francesca Hiew, Rachel Homburg, Christine Johnson, Isy Wasserman, Philippa West, Patrick Wong and Roger Young
Violas - Lauren Brigden, Katharine Brockman, Christopher Cartlidge, Ceridwen Davies, Gabrielle Halloran, Trevor Jones, Simon Oswell and Caleb Wright
Cellos - Nicholas Bochner, Miranda Brockman, Rohan de Korte, Keith Johnson, Sarah Morse, Angela Sargeant and Michelle Wood
Double Basses - Sylvia Hosking, Rohan Dasika, Benjamin Hanlon, Suzanne Lee and Stephen Newton
Flutes - Wendy Clarke, Sarah Beggs and Agatha Yim
Oboes - Ann Blackburn, Rachel Curkpatrick and Michael Pisani
Clarinets - David Thomas and Craig Hill
Horns - Geoff Lierse, Saul Lewis, Abbey Edlin, Trinette McClimont and Rachel Shaw
Trumpets - Shane Hooton, Callum G'Froerer and Julie Payne
Percussion - Robert Clarke, John Arcaro and Robert Cossom
Harp - Yinuo Mu
Piano - Louisa Breen
The Little Wiggles Version
Song Lyrics
Ballerina, Ballerina
Ballerina, Ballerina
Pirouette, temps le ve, Pas de chat
Et Fouette, Et Foutette

See the dancing ballerina
See her jump in the air
Soubre, sauts, et Aventre chat, Allegro,
Allegro, Allegro
Pirouette, temps le ve, Pas de chat
Et Fouette, Et Foutette
Et Fouette, Et Foutette

Trivia
The guitar is added on the soundtrack version.
Video Appearance
Album Appearance
Ad blocker interference detected!
Wikia is a free-to-use site that makes money from advertising. We have a modified experience for viewers using ad blockers

Wikia is not accessible if you've made further modifications. Remove the custom ad blocker rule(s) and the page will load as expected.