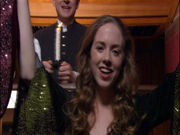 Blathnaid Conroy-Murphy was born in Dublin, Ireland and first worked with The Wiggles in late 2010. She was originally in an Irish choir called Anúna. She not only plays the bass, drums, piano and glockenspiel but does the singing voice of Dorothy the Dinosaur, as well.
Gallery
Ad blocker interference detected!
Wikia is a free-to-use site that makes money from advertising. We have a modified experience for viewers using ad blockers

Wikia is not accessible if you've made further modifications. Remove the custom ad blocker rule(s) and the page will load as expected.