These are Captain Feathersword's clothes designs through the years (1993 - Present).
Design 1 (1993-1995)
Captain was played by Anthony, John and Paul Field, his hat is wide with black, red and purple feathers and the feathersword is only red. He has long boots, dark blue jeans (shown in cartoon version) and a short purple belt.
Design 2 (1996-1997)
Captain is now played by Paul Paddick and he now has purple and black on his feathersword.
His eyepatch is on the left side. He has shorter boots and longer belt.
Design 3 (1997)
Captain's shirt is whiter, and his jacket is more velvet red. His hat is bigger and has a larger feathersword. He also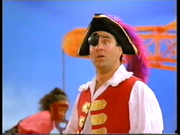 has feathers sticking out of his hat.
Design 4 (1997-2003)
His hat is a bit up more. His feathersword is flatter, smaller and his pants are now black just like the Wiggles'. This design was first seen in The Wiggles Movie in 1997 and later in early 1998.
Design 5 (2001-2006)
His jacket is a lighter shade of red, with a feathersword similar to the feathersword from 1996 but with blue and pink without black
Design 6 (2007-2010)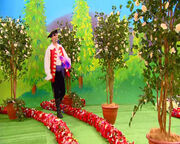 His jacket is more red. He has a bigger hat. His eyepatch has more light in it.
Design 7 (2010-Present)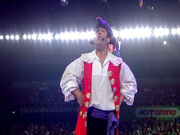 His clothes are now shiny (which includes his jacket) and his hat is very small compared to the other ones.