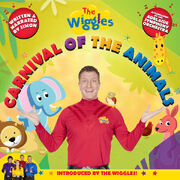 Carnival of the Animals is a Wiggles album released on July 1st, 2016. Simon Wiggle who wrote the story narrates this CD.
Tracks
Staff
Written and Narrated by: Simon Pryce
Music Produced by: Simon Pryce
Music Recorded at: Hot Potato Studios, Sydney
Music Performed by: The Adelaide Symphony Orchestra
Soloists: Anna Goldsworthy (piano), Mark Kniger (piano), Janis Laurs (cello), David Stanhope (conductor)
Album Engineered, Mixed & Mastered by: Jeff McCormack
Graphic Design by: Daniel Attard
Trivia
.
Gallery
Video