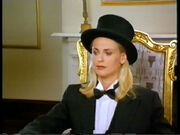 Carolyn Ferrie has supplied Dorothy's voice for many years. She's also the only person of The Wiggles who actually knows Kaz the Cat.
Song Credits
Dorothy (Would You Like to Dance?) - Backing Vocals
Boom Boom - Backing Vocals
Mrs. Bingles' Theme - Backing Vocals
Wally's Dream Music - Vocals
Let's Have a Party - Dorothy's Voice
Gallery
Ad blocker interference detected!
Wikia is a free-to-use site that makes money from advertising. We have a modified experience for viewers using ad blockers

Wikia is not accessible if you've made further modifications. Remove the custom ad blocker rule(s) and the page will load as expected.