For anybody who is a big fan of the new and first female Wiggle, Emma since 2013.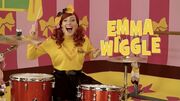 About Emma
Emma wear the glasses in real life. When she is a Wiggle, she wear contact lenses. Emma wear the yellow bow on her hair and her shoes. Emma wear a skirt. Emma love to do ballet dance. Emma's favorite colour is Yellow. Emma's favourite Wiggles song is Emma (With The Bow In Her Hair).
What year did Emma join The Wiggles
Emma join The Wiggles in early 2013.
Pages in category "Emma Fan"
Ad blocker interference detected!
Wikia is a free-to-use site that makes money from advertising. We have a modified experience for viewers using ad blockers

Wikia is not accessible if you've made further modifications. Remove the custom ad blocker rule(s) and the page will load as expected.