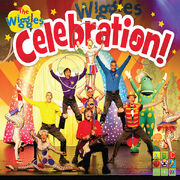 "Celebration!" is a concert album released in 2012.
Song List
Personnel
Musicians
Blathnaid Conroy-Murphy: Bass, Drums, Xylophone and Glockenspiel
Mic Conway: Kazoo, Washboard and Sound Effects
Murray Cook: Bass and Guitars
Jeff Fatt: Keyboards and Glockenspiel
Anthony Field: Bass and Drums
John Field: Guitars
Lachlan Gillespie: Glockenspiel
Lauren Hannaford: Glockenspiel
Tony Henry: Drums
Alex Keller: Bass
Steve Pace: Drums
Paul Paddick: Bass
Simon Pryce: uncredited
Greg Page: Guitars
Emma Watkins: Drums
Staff
Trivia
Ad blocker interference detected!
Wikia is a free-to-use site that makes money from advertising. We have a modified experience for viewers using ad blockers

Wikia is not accessible if you've made further modifications. Remove the custom ad blocker rule(s) and the page will load as expected.