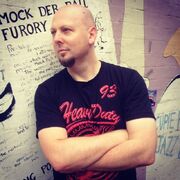 Chris Brooks is a rock guitarist. He used to work with The Wiggles from 1996 to 2000.
Album Production History
Songs Engineered
Wake Up Jeff!
Wiggly, Wiggly Christmas
The Wiggles Movie Soundtrack
Toot Toot!
It's a Wiggly, Wiggly World
Yule Be Wiggling
Hoop-Dee-Doo: It's a Wiggly Party
Ad blocker interference detected!
Wikia is a free-to-use site that makes money from advertising. We have a modified experience for viewers using ad blockers

Wikia is not accessible if you've made further modifications. Remove the custom ad blocker rule(s) and the page will load as expected.