Sing Along: Crunchy Munchy Music
[[|180 x 180px]]
Album Cover

Released

September 5, 2006

Genre

Children's music/Karaoke

Label

KOCH Records

Length

44:06

Previous album

The America Release of
Sing Along: Crunchy Munchy Music is an album released in September 2006 in the USA. It is the American release of Karaoke Songs 1.
Track List
Personnel
Staff
Music Producer - Anthony Field
Musical Arrangements - Anthony Field and Dominic Lindsay
Publisher/Copyright Owner - Wiggly Tunes
Gallery
<gallery position="center">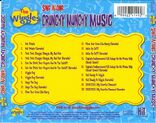 Ad blocker interference detected!
Wikia is a free-to-use site that makes money from advertising. We have a modified experience for viewers using ad blockers

Wikia is not accessible if you've made further modifications. Remove the custom ad blocker rule(s) and the page will load as expected.