Dance, Dance! is a Wiggles album released on September 2, 2016. A companion DVD was released in December 2016.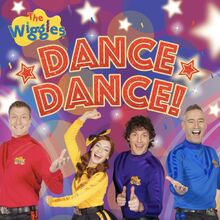 Description
The world's most popular children's group, The Wiggles are back with their brand new album, "Dance, Dance", the fanciest and danciest album you'll hear! Whether you're doing an Irish jig or a highland fling, you'll simply want to dance and sing! From "Hula, Hula, Baby" to "The Shimmie Shake!", it's a "Wiggly Party", come along and partake! Dance, Dance with Anthony, Emma, Lachy, Simon and all your wiggly friends!
Tracklist
Musicians
Drums - Jackie Barnes, Jae Nelson, Emma Watkins
Bass - Alex Keller
Guitars - Oliver Brian, Murray Cook, Anthony Field, Alex Keller
Keyboards - Oliver Brian, Jeff Fatt, Lachlan Gillespie, Samuel McFadden
Trumpet - Ray Cassar
Bagpipes - Anthony Field
Percussion - Jackie Barnes, Anthony Field, Lachlan Gillespie, Steve Pace, Emma Watkins
Irish Hard Shoe - Emma Watkins
Backing Vocals & Clapping - Anthony Field, Lachlan Gillespie, Simon Pryce, Emma Watkins
Whistling - Lachlan Gillespie
Staff
Trivia
Gallery
Album Promo
Album Recording
Ad blocker interference detected!
Wikia is a free-to-use site that makes money from advertising. We have a modified experience for viewers using ad blockers

Wikia is not accessible if you've made further modifications. Remove the custom ad blocker rule(s) and the page will load as expected.