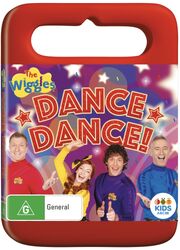 Dance Dance[1] is a CD that came out on September 2, 2016 and DVD that was released on December 7, 2016.
Production
Instead of Wiggle Town!, The Wiggles filmed other future DVDs, including this one. That's why it took about 2 years to film this DVD as listed.
Mid-February and Early March 2015
Little Tango (Dreamworld scenes)
July and August 2015
December 19th, 2015
Come On Down to Wiggle Town (Live)
February 2016
Wiggletto (Dorothy the Dinosaur and Wags the Dog scenes)
May 2016
Do the Propeller! (chroma key scenes)
June 2016
The Shimmie Shake Intro Scene
Little Dingo Intro Scene
Wiggletto Intro Scene
Hula Hula Baby (outside scenes)
Simon Says song and intro
Do the Propeller! (outside scenes)
Di Dicki Do Dum intro scene
A Taste of Joplin intro scene
Tapping on the Sidewalks of New York intro scene
August 2016
Songs
Trivia
Gallery
A Frog Went a Walking on a Summer's Day
The Road to the Isles (Do the Highland Fling)
(Dah Dah Dee Dee) On the High Road to Linton!
Shake Your Hips with Wags the Dog
Poor Old Michael Finnegan
Glasgow City Police Pipers
Come On Down to Wiggle Town (Live)
Tapping on the Sidewalks of New York
Behind the Scenes
Promo Pictures
References
2.
https://www.jbhifi.com.au/music/browse/childrens/dance-dance/988102/
3. https://shop.abc.net.au/products/dance-dance-the-wiggles-cd
4. http://www.sanity.com.au/products/2320431/Wiggles_Dance_Dance
Ad blocker interference detected!
Wikia is a free-to-use site that makes money from advertising. We have a modified experience for viewers using ad blockers

Wikia is not accessible if you've made further modifications. Remove the custom ad blocker rule(s) and the page will load as expected.