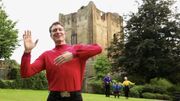 Dance To Your Daddy is a traditional English folk song, originating in Northumberland.
It was popularised as the theme tune to the 1970s BBC drama serial When The Boat Comes In in an arrangement by the composer David Fanshawe.
The song was also used in the TV advertisement for Young's fish, Sea to Plate campaign.
The Wiggles sing their version of this song in Taking Off!.
Song Credits
Taking Off!
Lachy!
Written by: Traditional
Arranged by: Anthony Field, Lachlan Gillespie
Published by: Wiggly Tunes Pty Ltd
Vocals: Lachlan Gillespie
Piano: Lachlan Gillespie
Music Produced by: Anthony Field
Music Recorded at: Hot Potato Studios, Sydney
Music Recorded by: Jeff McCormack
Music Mixed by: Alex Keller
Mastered by: Don Bartley
Song Lyrics
Dance to your Daddy, my little laddy
Dance to your Daddy, my little lamb
You shall have a fishy on a little dishy
you shall have a fishy the boat comes in.
Dance to your daddy, my little laddy
dance to your daddy my little lamb
Trivia
The Taking Off! version plays in C whereas the Lachy! version plays in E.