Ad blocker interference detected!
Wikia is a free-to-use site that makes money from advertising. We have a modified experience for viewers using ad blockers

Wikia is not accessible if you've made further modifications. Remove the custom ad blocker rule(s) and the page will load as expected.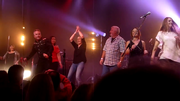 Do The Monkey is a Cockroaches song from their album St. Patrick's Day 10am. This song was later adapted by The Wiggles on their "Yummy Yummy" album and video.
Song Lyrics
Do the monkey
Do the monkey
Monkey, monkey
That's alright

Do the shake-shake
Shaky, shaky
Shake it, darling
That's alright

Ooby-da-doo-da-dae
Ooby-da-doo-da-dae
Ooby-da-doo-da-dae
That's alright

Do the chicken
Funky, funky chicken
Chicken baby
That's alright

Do the hula
Hula, hula
Hula, darlin'
That's alright

Ooby-da-doo-da-dae
Ooby-da-doo-da-dae
Ooby-da-doo-da-dae
That's alright

(Instrumental break)
Do the monkey
Do the monkey
Monkey, monkey
That's alright

Do the shake-shake
Shake it, baby
Shaky, shaky
That's alright

Ooby-da-doo-da-dae
Ooby-da-doo-da-dae
Ooby-da-doo-da-dae
That's alright

That's alright
Do the monkey (That's alright)
Do the monkey (That's alright)
Do the monkey (That's alright)
Do the monkey (That's alright)