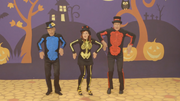 Do the Skeleton Scat! is a Wiggles Halloween song from Pumpkin Face.
Song Credits
Pumpkin Face
Dance Dance!
Lachlan Gillespie (Wiggly Tunes Pty Ltd)
Vocals: Jackie Barnes, Lachlan Gillespie, Simon Pryce, Emma Watkins
Drums: Jackie Barnes
Bass Guitar: Alex Keller
Electric Guitar: Oliver Brian
Banjo: Anthony Field
Piano: Lachlan Gillespie
Tap Dancing: Emma Watkins
Music Produced by: Anthony Field
Music Recorded at: Hot Potato Studios, Sydney, NSW
Music Recorded and Mixed by: Alex Keller
Mastered by Don Bartley
Lyrics
(Piano solo)
Lachy: When you hear the swingin' beat swingin' song to bat
You know it's time to get in line, and do the skeleton skat!
Emma, can you play the drums? Let's hear that swingin' beat!
Emma: I'll play the drums with my hands and dance a dance with my feat!
(Drum solo)
Lachy: Simon, can you use your voice to make that low tone?
Simon: I'll sing my notes so low that they just sound like a trumbone.
(Simon sings real low)
Lachy: Anthony, play the guitar. Let's hear those jammed out strings.
Anthony: I'll play the guitar, like a star. Make those strings ring. Gee c'mon!
(Guitar solo)
Lachy: Now's the time, don't be shy. Use your voice and skat.
When I count 1, 2, 3, Let's do the skeleton skat!
(Lachy sings a bunch of made up words)
1, 2 3!
Emma, Simon, and Anthony: (The Awake Wiggles repeat Lachy)
Lachy: (Lachy sings made up words, again)
1, 2, 3!
Emma, Simon, and Anthony: (The Awake Wiggles repeat Lachy, again)
(Piano solo)
Trivia
On Dance Dance!, the lyrics for the verses about Emma and Anthony have been changed.
On The Wiggles' YouTube channel, the Pumpkin Face version of the music video was uploaded on October 14th 2015 and the Dance Dance! version was uploaded on July 6th 2017.
Episode Appearances
Videos