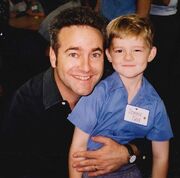 Dominic Field (b. May 30, 1994 in Sydney, Australia) is Paul Field's youngest son. He is also Anthony Field's nephew and Luke, Bernadette, Clare and Joseph's younger brother. He played Little Murray in Seasons 4 & 5 of The Wiggles (TV Series). Then he did the Commentating on the Album Whoo Whoo Wiggly Gremlins in Songs: Music with Murray, Lights, Camera,CommunityService Announcement. He is currently a Wiggly dancer and plays Wags The Dog in the live shows.
About Dominic Field
Gender: Male
Aged: (1-11)
Favorite Color: Black
Birthday: May 30, 1994
Family: Lives with his brothers Joseph Field, Luke Field, and his sister Clare Field and he lives with his father Paul Field.
Hobbies: Dancing, Basketball and Running.
Trivia
Gallery
Ad blocker interference detected!
Wikia is a free-to-use site that makes money from advertising. We have a modified experience for viewers using ad blockers

Wikia is not accessible if you've made further modifications. Remove the custom ad blocker rule(s) and the page will load as expected.