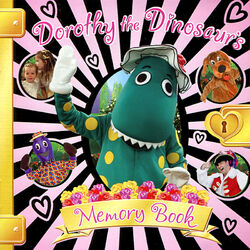 "Dorothy's Memory Book" is the 2nd Australian-released Dorothy The Dinosaur album. The tracks are taken from the 2nd Dorothy The Dinosaur TV series. This album is known as The Wiggles Present: Dorothy the Dinosaur in America.
Tracklist
Personnel
Vocals: Francis Awaritefe, Rachael Beck, Troy Cassar-Daley, Mic Conway, Carolyn Ferrie, Kathy Gothadjaka, David Hobson, Jane Kennedy, John Rowe, Leo Sayer, Don Spencer and Paul Paddick
Guitar: Anthony Field
Bouzouki: George Tseros
Cello: Alex Keller and Margaret Lindsay
Piano: Alex Keller
Viola: Angelo Lindsay
Accordion, Flugelhorn, Piccolo and Trumpet: Dominic Lindsay
Violin: Maria Lindsay
Double Bass: John O'Grady and David Stratton
Staff
Engineered by: Craig Abercrombie
Composers: Alfonso Rinaldi, Murray Cook, Jeff Fatt, Anthony Field, John Field, Paul Field, GIlbert, Kathy Gothadjaka, Dominic Lindsay, Steve Machamer, Paul Paddick, Greg Page and Don Spencer
Arrangers: Anthony Field and Dominic Lindsay
Mastered/Remastered by: Robin Gist
Mixed by: Alex Keller
Produced by: Dominic Lindsay and Anthony Field
Trivia
Dominic Lindsay provides the arrangement for the string instruments and The Wiggles provides the arrangement for other instruments.
Gallery
Album Booklet