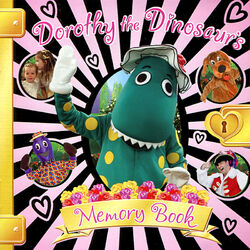 "Dorothy's Memory Book" is the 2nd Australian-released Dorothy The Dinosaur album. The tracks are taken from the 2nd Dorothy The Dinosaur TV series. This album is known as The Wiggles Present: Dorothy the Dinosaur in America.
Tracklist
Personnel
The Wiggles are Murray Cook, Jeff Fatt, Anthony Field and Sam Moran
Music Produced and Arranged by Anthony Field and Dominic Lindsay
Recorded at Hot Potato Studios
Vocals: Francis Awaritefe, Rachel Beck, Troy Cassar-Daley, Mic Conway, Carolyn Ferrie, Kathy Gothadjaka, David Hobson, Jane Kennedy, John Rowe, Leo Sayer, Don Spencer and Paul Paddick
Flugel Horn, Piccolo Trumpet and Accordion: Dominic Lindsay
Bouzouki: George Tseros
Piano: Alex Keller
Violin: Maria Lindsay
Viola: Angela Lindsay
Cello: Margaret Lindsay, Alex Keller
Guitar: Anthony Field
Double Bass: David Stratton, John O'Grady
Recorded by: Craig Abercrombie
Mixed by: Alex Keller
Mastered by Robin Gist
Trivia
Dominic Lindsay provides the arrangement for the string instruments and The Wiggles provides the arrangement for other instruments.
Gallery
Album Booklet