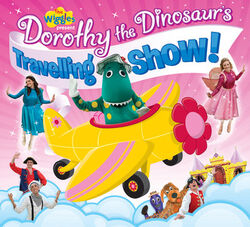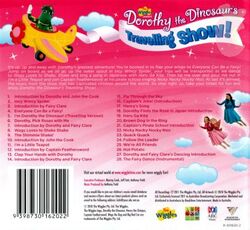 "Dorothy the Dinosaur's Traveling Show" is the third Dorothy the Dinosaur album, which was released on the 14th of January, 2011. The video for this CD was adapted into a concert and travelled all around Australia.
Tracklist
Musicians
Vocals: Emma Pask, Lachlan Gillespie, Mic Conway, Jeff Fatt, Clare Field, Emma Watkins, Nat Jobe
Bass: Murray Cook, Alex Keller, Chris Lupton
Guitars: Murray Cook, Anthony Field, John Field
Keyboards: Steve Blau, Jeff Fatt, Dominic Lindsay
Drums: Tony Henry, Anthony Howe, Steve Pace
Percussion: Jeff Fatt, Anthony Howe, Steve Machamer, Steve Pace
Brass: Dominic Lindsay
Strings: Alex Keller, Angela Lindsay, Margaret Lindsay, Maria Schattovits
Ad blocker interference detected!
Wikia is a free-to-use site that makes money from advertising. We have a modified experience for viewers using ad blockers

Wikia is not accessible if you've made further modifications. Remove the custom ad blocker rule(s) and the page will load as expected.