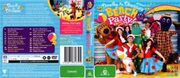 Dorothy the Dinosaur's Beach Party is a video featuring Dorothy the Dinosaur that was released on December 5, 2012. This DVD and concert tour it is based off of is named after the Dorothy the Dinosaur's Beach Party song.
Songlist
Cast and Crew
Cast
Crew
Gallery
Trivia
Paul Paddick returns in this video as Captain Feathersword.
Clare Field's singing vocals are done by Chloe Zuel, and Lucy Wiggan's vocals are done by Caterina Mete.
The version of Having Fun at the Beach performed in the video and album is sung by the Dance-a-Lots, while in the credits, it is sung by Dorothy and doesn't fade out, but ends with a guitar sting and a splash.
In Henry's Dance, Paul Paddick doesn't sing in the voice he usually does when he plays Captain Feathersword, but rather his normal singing voice.
This is the last Dorothy the Dinosaur DVD until future notice.
Arthur returns to singing in this video after 4 years of experience as a member of The Taiwanese Wiggles.