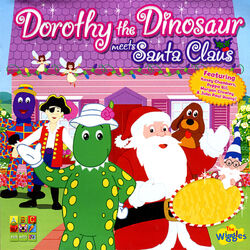 "Dorothy the Dinosaur Meets Santa Claus" is the third Dorothy The Dinosaur album and the first Christmas one.
Tracklist
A Miracle in a Manger - Bonus Song Featuring John Paul Young
Introduction
Introduction
Introduction
Dorothy on Santa's Sleigh - Bonus Song Featuring Casey Chambers & Poppa Bill
Waltz with Me (Count One, Two, Three)
Wags' Christmas Bone - Bonus Song
Santa's Big Brass Band - Bonus Song
Introduction
Riding on Santa's Sleigh (Reprise)
Gallery
Ad blocker interference detected!
Wikia is a free-to-use site that makes money from advertising. We have a modified experience for viewers using ad blockers

Wikia is not accessible if you've made further modifications. Remove the custom ad blocker rule(s) and the page will load as expected.