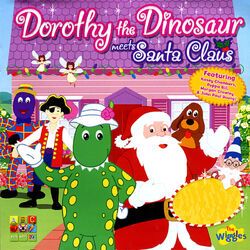 "Dorothy the Dinosaur Meets Santa Claus" is the third Dorothy The Dinosaur album and the first Christmas one.
Tracklist
Musicians
Dorothy the Dinosaur Vocals: Jennifer Andrade, Carolyn Ferrie
Captain Feathersword Vocals: Paul Paddick
Henry the Octopus Vocals: Paul Paddick
Wags the Dog Vocals: Paul Field
Santa Claus Vocals: Simon Pryce
Special Guest Vocalists: Bill Chambers, Kasey Chambers, Morgan Crowley, John Paul Young
Backing Vocals: Craig Abercrombie, Jennifer Andrade, John Field, Paul Field, Paul Paddick, Simon Pryce
Character Voices: Clare Field, Paul Field, Caterina Mete, Ben Osbon, Isabelle Osbon, Madeline Osbon, Paul Paddick
Guitars: John Field
Bass Guitar: Rowan Lane, Chris Lupton, Alex Keller
Lap Steel & Slide Guitar: Bill Chambers
Mandolin: John Field
Cello: Alex Keller
Violin: Sonja Keller
Piano & Keyboards: Phil Grove
Saxophone: Steve Fitzmaurice
Trombone: Roy Ferrin
Trumpet: Alan Davey
Drums: Mark Marriott, Steve Pace
Percussion: John Field, Mark Marriott, Steve Pace
Staff
Trivia
John Field and Paul Field provide the musical arrangements for this album.
Gallery
Ad blocker interference detected!
Wikia is a free-to-use site that makes money from advertising. We have a modified experience for viewers using ad blockers

Wikia is not accessible if you've made further modifications. Remove the custom ad blocker rule(s) and the page will load as expected.