The evolution of Dorothy the Dinosaur (1991 - Present).
Costume 1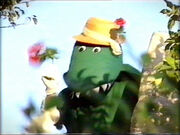 1991 - 1993: Dorothy wears human clothing and her gloves are longer and her hat is a tan color, sports googly eyes and has very few spots. Also, her tail is very long and floppy, causing someone to have to hold it up for her to prevent tripping. Every time she leaned her head back you could always see the actor's head. This costume is really baggy.
Appears in: Dorothy The Dinosaur music video, Uncle Noah's Ark music video and late 1991 concerts.
Costume 2
1992 - 1996: Dorothy's gloves are now shorter and this costume is very much like the last one except she has no human clothing and she now has a rose on her hat which is now white. This costume also has a lighter green hue to it. The snout is flatter. She even has more spots now. The tail is also shorter and no longer floppy. And she no longer has googly eyes. Also in a different version her hat is turned up where the rose is and she has five fingered gloves. Version 2 has less spots than the other version. There are no spots on the tail, except for the big one on the bottom. There are no spots on her arms either. The middle toe is bigger than the rest of them. You usually can't see her teeth, and the costume is less baggy. Her hat is also a different way. she sometimes has a spot under her mouth.
Appears in: ABC For Kids: Live In Concert, Wiggle Time, Yummy Yummy, Big Red Car, Wake Up Jeff! (live in concert clip in 1995) and early 1996 concerts and rehearsals.
Costume 3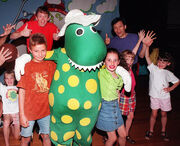 1996 - 1997: Dorothy's design is given a huge overhaul from the previous costumes. Her head and body are rounder and the spots are given a brighter tinge of yellow. Her teeth are also bigger and much more prominent. She has bigger eyes and thicker pupils. Her skin is a lighter tinge of green.
Appears in: Wake Up Jeff!, Wiggledance! Live in Concert and Wiggly, Wiggly Christmas cover.
Costume 4
1997 - 1999: This costume looks very similar to the previous costume, with the smaller pupils, lack of a few spots on the stomach and a thinner head as exceptions. In the 1997 Starlight Foundation ad and The Wiggles: Live at Disneyland, she got a slight makeover. Her skin is a bit darker, her teeth stick out a little more and her tail is more stiff. This costume now sports a bottom lip.
Version 1 Appears in: The Wiggles Movie, Wiggly, Wiggly Christmas, The Wiggles (TV Series 1), (Funny Greg, Muscleman Murray and the Chase closings) and The Wiggles: Live at Disneyland (time lapse opening cameo)
Version 2 Appears in: Wiggle Time (re-recording), Yummy Yummy (re-recording), Wigglemania Live in Concert and The Wiggles (TV Series 1)
Version 3 Appears in: Toot Toot!, The Wiggles: Live at Disneyland, The Dorothy the Dinosaur and Friends Video (cameo) The Wiggles (TV Series 2) (episodes 1-13) and The Wiggly Big Show
Costume 5
1999 - 2000: This costume has a wider head with smaller eyes and pupils. There are also shorter rows of teeth on the mouth.
Appears in: The Dorothy the Dinosaur and Friends Video, The Wiggles (TV Series 2), Dorothy the Dinosaur Goes to Hospital, The Wiggly Big Show (backstage skits), Captain Feathersword, the Friendly Pirate, It's a Wiggly, Wiggly World, Wiggly TV and the back cover of Yule Be Wiggling. This costume was also used for far-away shots in Wiggle Bay during the opening number.
Costume 6
2000 - 2006: Just like with the first costume, there are 2 versions. The first version has a rounder head with a shorter cartoonish hat. The second version has a thinner and pointier head with the edges of the hat being longer. She now has dark green skin. She also has eye brows and bigger eye lids. And her eyes are similar to the 3rd costume and more cartoonish. There are border marks on her feet instead of bumps for toes and her tail is a different shape. In the costume's later years, the jaw becomes broken, causing it to hang down below the teeth.
Appears in:
Costume 7
2006 - 2011: This costume is a bit like the last one, but her hat is slightly swirlier and her skin is lighter like the 5th costume and the pupils are slightly smaller.
Appears In:
Costume 8
2007 - 2011: This costume is a bit like the last one, but her hat is swirlier and her mouth is always open.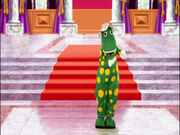 Appears In:
Costume 9
2007 - present: Her hat is bigger and shaped differently. Her skin is lighter and her head is bigger. Her eyes are now round. Her tail is smaller and thinner.
Appears In
Costume 10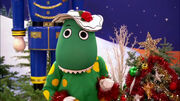 2011 - present: This is the same to costume 8, but with lighter skin.
Appears In:
Ad blocker interference detected!
Wikia is a free-to-use site that makes money from advertising. We have a modified experience for viewers using ad blockers

Wikia is not accessible if you've made further modifications. Remove the custom ad blocker rule(s) and the page will load as expected.