Ad blocker interference detected!
Wikia is a free-to-use site that makes money from advertising. We have a modified experience for viewers using ad blockers

Wikia is not accessible if you've made further modifications. Remove the custom ad blocker rule(s) and the page will load as expected.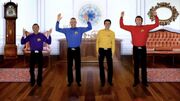 Dreidel, Dreidel, Dreidel is a children's Chanukah song in the English speaking world which also exists in a Yiddish version called "Ikh Bin A Kleyner Dreydl", (Yiddish: איך בין אַ קלײנער דרײדל Lit: I am a little dreidel). The song is about making a dreidel and playing with it.
The Wiggles sing this song in Let's Eat.
Song Lyrics
I have a little dreidel
I made it out clay
And when it's dry and ready
Then dreidel I shall play
Oh, dreidel, dreidel, dreidel
I made it out of clay
Oh, dreidel, dreidel, dreidel
Then dreidel I shall play
It has a lovely body
With legs all short and thin
And when it gets all tired
It drops and then I win
Oh, dreidel, dreidel, dreidel
I made it out of clay
Oh, dreidel, dreidel, dreidel
Then dreidel I shall play
My dreidel's always playful
It loves to dance and spin
A happy game of dreidel
Come play now, let's begin
Oh, dreidel, dreidel, dreidel
I made it out of clay
Oh, dreidel, dreidel, dreidel
Then dreidel I shall play
I have a little dreidel
I made it out clay
And when it's dry and ready
Then dreidel I shall play
Oh, dreidel, dreidel, dreidel
I made it out of clay
Oh, dreidel, dreidel, dreidel
Then dreidel I shall play