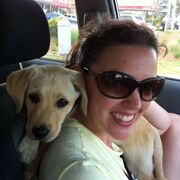 Elisha Burke is one of the people playing Henry the Octopus in The Wiggles: Live at Disneyland and Toot Toot!. Burke also voiced Dorothy the Dinosaur in some 1998 and 1999 footage, including the Disneyland special, Kindergarten Text Types, A Day With The Wiggles, Dorothy the Dinosaur Goes to Hospital, Wiggly Party, Yule Be Wiggling, and Tell Me All About Christmas, Dorothy electronic storybook. She is also Simon Pryce's classmate.
Ad blocker interference detected!
Wikia is a free-to-use site that makes money from advertising. We have a modified experience for viewers using ad blockers

Wikia is not accessible if you've made further modifications. Remove the custom ad blocker rule(s) and the page will load as expected.