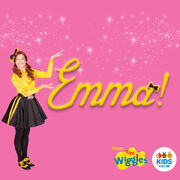 Emma! (also referred to as "Emma! From The Wiggles") was an album to be released on April 24, 2015. Every song is sung by Emma herself, except for "Emma's Theme", which is mainly sung by Lachy, as well as all the instrumental songs. It is the soundtrack to Emma's spin-off TV series of the same name, which started on June 1, 2015 at 3:55pm and 9:55pm.
Songs
NOTE: Songs marked with an asterisk (*) are instrumental songs.
Personnell
Trivia
Twinkling Star is an instrumental version of Twinkle, Twinkle, Little Star, and Stille Nacht is an instrumental version of Silent Night.
Galloping Ballet and Open Shut Them use their original instrumentals, and Two Polite Gentlemen uses Two Polite Elvises' instrumental, while the rest all have brand new ones.
My Name is Emma is adapted from Dance with Emma.
Rock-a-Bye Your Bear, I Love it When it Rains, Take A Trip Out On The Sea, and Incy Wincy Spider are the only songs that weren't added on this album.
Anthony Field, Lachlan Gillespie, and Emma Watkins wrote Emma's Theme, Hello, My Name is Emma, Emma's Music Box, Listen to the Music Box, and Emma's Reverence.
Gallery
References
The Wiggles talk about this new project on the 'About Us' page: