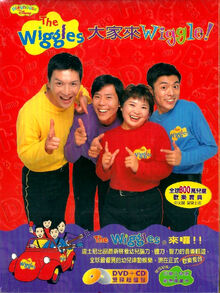 Everybody Come Wiggle! or: "大家來Wiggle!" is the first Taiwanese Wiggles video made in 2003.
Songs
English songtitles
Wiggles is coming
Get Ready To Wiggle
Sweet corn
Bear is coming
The train flew
Captain's duck dance
Jumping Monkey Dance
Cubs good night
Wake Up Danny
D.O.R.O.T.H.Y. my favorite little dinosaur
Octopus Henry
Wiggle groove rhythm
Romp Bomp A Stomp
Wiggly Party twist dance
Wiggles Suite
Gallery
Here Come The Wiggles
Get Ready to Wiggle
Sweet Corn
Wigglehouse Segment: Arthur's Storytelling Contest
Here Comes A Bear
Fast Train
Captain Feathersword's Pirate Show Segment: Treasure Hunt
Captain Feathersword Fell Asleep on his Pirate Ship
The Monkey Dance
Wigglehouse Segment: Anni's Magic Trick
Rock-a-Bye Your Bear
Wake Up Danny!
Wigglehouse Segment: Danny's Asleep Again!
D.O.R.O.T.H.Y. (My Favorite Dinosaur)