Marriage of Greg.
Michelle Marriage
Page married
Michelle Charlton
 in 1996, around the same time The Wiggle's "Wake Up Jeff" tape came out. They got together by chance when Page went into the local Chinese restaurant where Michelle worked as a waitress back in 1994. They wed before 150 family and friends at Oatlands House in Dundas two years later. Page was 24 at the time of the marriage.
They both had a baby girl named Madison in 1997. Greg is the stepfather of Michelle's son. Michelle had a son named Blaine from a previous marriage,
On January 17, 2008 after Greg's 36th birthday and 2 years after he left The Wiggle's, he broke up with Michelle because they just understood about not being together anymore.
Vanessa Marriage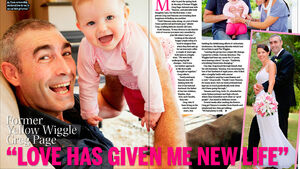 Greg was re-married to his new wife Vanessa in 2009 and even has an adorable baby daughter named
Lara
who was born in October 2009. Greg and Vanessa also had a son,
Cameron
, who was born in July of 2011.
Ad blocker interference detected!
Wikia is a free-to-use site that makes money from advertising. We have a modified experience for viewers using ad blockers

Wikia is not accessible if you've made further modifications. Remove the custom ad blocker rule(s) and the page will load as expected.