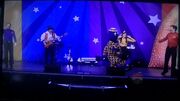 Hello, Henry is a song from The Wiggles Meet the Orchestra! (video). This is the tune of Frere Jacques.
Song Credits
Lyrics
Simon: Hello Henry
Lachy: Hello Dorothy
Emma: Wags the Dog
Anthony: Woof, to you!
Simon: Captain, Wonderful Dancing!
Lachy: Splendid piratical prancing
Captain: Well, thank you very much!
Trivia
Video