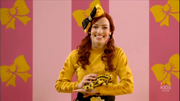 Hello, My Name is Emma is a brand new Wiggles song from Emma's first solo-album: Emma!. The song introduces Emma that her music can take them everywhere.
Song Credits
2015 Version
2016 Version
Musicians
2015 Version
2016 Version
Vocals: Emma Watkins
Bass: Jeff McCormack
Banjo: Anthony Field
Piano: Lachlan Gillespie
Lyrics
Emma! TV Series
Hello, My Name is Emma.
Bian vonu, bonjor safar!
With our music we can travel far!
Dial E for Emma
Hello, my name is Emma.
I love to dance, I love to sing.
I'm waiting here for the phone to ring.
If you dial E, that's E for Emma,
I'll answer the phone if I can.
I'll come right away and lend a hand.
Emma's Bowtiful Ballet Studio
Emma: Hello, my name is Emma
Come on, let's dance in a ballet way
Join in, it's ballet class today
If you follow me at the ballet barre,
we'll learn to dance with grace and ease
C'mon, let's try it, if you please
Ballet
Adaption
The song is adapted from a Rock & Roll Preschool song titled Dance with Emma.
Trivia
The music that uses this song was originally written by Anthony Field, Lachlan Gillespie, Simon Pryce, and Emma Watkins.
Video
Ad blocker interference detected!
Wikia is a free-to-use site that makes money from advertising. We have a modified experience for viewers using ad blockers

Wikia is not accessible if you've made further modifications. Remove the custom ad blocker rule(s) and the page will load as expected.