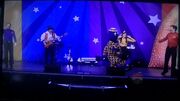 Hello Henry! is a song from The Wiggles Meet the Orchestra! (video). This is the tune of Frere Jacques.
Song Credits
Trad. Arr. Anthony Field, Lachlan Gillespie, Simon Pryce, Emma Watkins
(Wiggly Tunes Pty. Ltd)
Music Produced by Anthony Field
Orchestrations by Joseph Twist
The Wiggles Recorded at Hot Potato Studios, Sydney
Orchestra Recorded at Iwaki Auditorium, ABC, Southbank, Melbourne
The Wiggles Recorded by Alex Keller
Orchestral Recording Engineered by Nicholas Miernich & Tim Symonds
Orchestral Recording Mixed by Christo Curtis
Album Mixed and Mastered by Virginia Read
Vocals: Anthony Field, Lachlan Gillespie, Andrew Koblar, Simon Pryce, Emma Watkins
Captain Feathersword & Henry the Octopus Vocals: Paul Paddick
Lyrics
Hello Henry, hello Dorothy
Wags the Dog, woof, to you!
Captain, Wonderful Dancing, splendid piratical prancing
'Well, thank you very much!
Trivia
Video