Henry the Octopus
Comments

10
3,401pages on
this wiki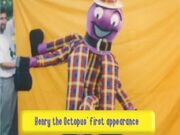 "Henry the Octopus" is a fun-loving octopus who likes to make music and dance like an octopus.

He is purple with 8 tentacles. He wears tartan (plaid) clothes, a boater hat, a black bow tie and even black polished shoes on the end of every tentacle.
He is the leader of the Underwater Big Band, and likes to sing and to breakdance with his eight legs. He is said to have a bubbly personality and loves a good joke!
According to Anthony Field in Everybody Clap! Everybody Sing!, Henry was named after the drummer from The Cockroaches, Tony Henry. And according to Jeff Fatt, an octopus with 8 tentacles would play the drums.
He was introduced in 1992 for appearing on the song Henry the Octopus from ​Here Comes A Song.
Information
Edit
Anthony Field (The Blue Wiggle) provided Henry's voice from 1992-1993.didn't sound like any later voices
Jeff Fatt (The Purple Wiggle) began serving as Henry's voice in 1994.
Paul Paddick (Captain Feathersword performer) has provided the voice of Henry since the mid 2000's for concerts, although Fatt still voices the character occasionally. Paddy does the voice still sometimes
Like the designs of Dorothy the Dinosaur and Wags the Dog, Henry's design has gone through many changes over the years (including the original version introduced around 1992 - 1993; the 1997 version, with a more blue and violet color to his skin; and the current version from the early 2000s, with a slightly more cartoony design).
There have also been several different songs about Henry, including "Henry the Octopus", "Henry's Dance", "Henry's Underwater Big Band" "Move Your Arms Like Henry" "Boom Boom" "Henry's Spinning" and many more.
Voice Talents
Edit
Also See: Henry the Octopus Voice Comparison
Costume Models
Edit
Henry the Octopus Through the Years