The evolution of Henry the Octopus (1992 - Present).
Costume 1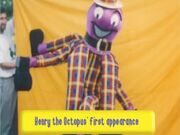 1992 - 1996: The original Henry costume represents a major departure from later costumes. He has small eyes, eyebrows, and a very pale purple color. Also, rather than a bowtie, he sports what appears to be a belt on his neck.
Appears in: 1992 Concerts, Big Red Car (Dance Party), Wiggle Time, Yummy Yummy, Big Red Car, the Wake Up Jeff! cover and original video.
Costume 2
1996 - 1997: Henry's design is given a slight overhaul, he now has bigger, more oval-shaped eyes. His skin is in a mauve colour. His belt is also redesigned slightly.
Appears in: Wake Up Jeff, Wiggledance! Live in Concert and the Wiggly, Wiggly Christmas cover.
Costume 3
1997 - 1998: Henry's design is given another overhaul. Instead of a belt, Henry now has a bowtie. His bowtie goes down at the bow. Now his tentacles are rounder and all of his shoes shine. His skin is now a blue-violet color.
Appears in:
Costume 4
1998 - 2000: Similar to the previous costume, but now his blue-violet color is darker and his head is rounder and taller. The patterns on his clothing are also changed slightly. His bowtie is now more straight.
Appears in:
Costume 5
2000 - 2007: Henry now has a more cartoon like design. He looks a bit chubbier than previous costumes, and his shoes are rounder and his tentacles are curved. His head is skinnier and his hat is now straight on the top of his head instead of crooked on the side. The patterns on his clothing and hat are given a complete overhaul.
Appears in:
Costume 6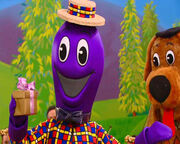 2007 - 2010: This costume is like the last one except that he now has gloves and his head is bigger.
Appears in:
Costume 7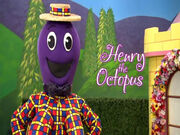 2009 - 2015: The costume has a skinnier head and Henry's eyes are smaller. Henry's gloves are now back to shoes. Henry looks like his eyes are both looking in different directions. And his head looks like fabric.
Appears in:
Costume 8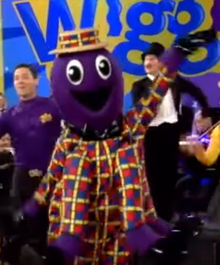 2015- present: Henry goes through a slight overhaul. He doesn't have much fabric as the last one did but he looks slightly cuter.
Appears in: Rock & Roll Preschool, The Wiggles Meet the Orchestra, Wiggle Town and concerts
Ad blocker interference detected!
Wikia is a free-to-use site that makes money from advertising. We have a modified experience for viewers using ad blockers

Wikia is not accessible if you've made further modifications. Remove the custom ad blocker rule(s) and the page will load as expected.