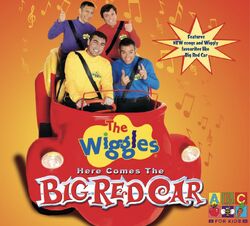 "Here Comes the Big Red Car" is a Wiggles album that was released on the 10th of January, 2006. It features mainly songs off the Big Red Car album from 1995, but also has a couple new songs such as "I Want To Wear The Jacket" which was originally a Cockroaches song, which was called I Want a Leather Jacket ". The accompanying video was released on March 23, 2006.
Tracklist
Note: All songs are taken from Big Red Car except where noted otherwise.
Sorry Again (new song)
Introduction
I Want To Wear The Jacket (new song)
Introduction
Introduction
Our Boat is Rocking on the Sea (new recording)
Nicky Nacky Nocky Noo (new recording)
Personnel
Staff
Remastering: Don Bartley
Mastering: William Bowden
Engineers: Chris Brooks, Robin Gist, Robelio Perez and Aaron Ruig
Mixing: Chris Brooks and Robin Gist, Phil Judd and Anthony McKenzie
Composers: Jeff Fatt, Anthony Field, Greg Page, John Field, Paul Field and A. Henry
Arranger: Dominic Lindsay
Producers: Anthony Field
Artists: Greg Page, Murray Cook, Anthony Field and Jeff Fatt
Release Dates
America: January 10, 2006 Australia: March 22, 2006
Gallery
Album booklet gallery
Ad blocker interference detected!
Wikia is a free-to-use site that makes money from advertising. We have a modified experience for viewers using ad blockers

Wikia is not accessible if you've made further modifications. Remove the custom ad blocker rule(s) and the page will load as expected.