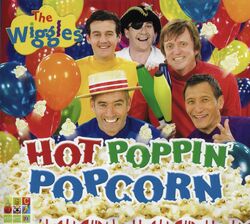 "Hot Poppin' Popcorn" is a Wiggles album which was released on the 6th of August, 2009. It features a song with Jamie Redfern.
Tracklist
Hot Poppin' Popcorn (Featuring Jamie Redfern)
Hot Poppin' Popcorn (Karaoke)
Personnel
Staff
Mastering: Don Bartley
Composers: Murray Cook, Jeff Fatt, Anthony Field, Sam Moran, John Field and Paul Paddick
Arrangers: Murray Cook, Jeff Fatt and Anthony Field
Engineers: Alex Keller
Producers: Anthony Field
Artists: Sam Moran, Murray Cook, Anthony Field, Jeff Fatt, and Jamie Redfern (Featured and Guest Artist)
Gallery
Ad blocker interference detected!
Wikia is a free-to-use site that makes money from advertising. We have a modified experience for viewers using ad blockers

Wikia is not accessible if you've made further modifications. Remove the custom ad blocker rule(s) and the page will load as expected.