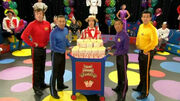 "Hot Poppin' Popcorn" is a song about eating hot poppin' popcorn. It guest stars Jamie Redfern singing. It appears on the video of the same name .
Musicians
Song Lyrics
So get your hot poppin' popcorn, poppin' hot popcorn.
Get it while it's hot corn, whoa.
Eat it while you watch corn hot poppin' popcorn.
Pop it and away you go.
Once it starts poppin', there's no way a-stoppin'
That hot poppin' popcorn flow.
So eat your loving popcorn, hot poppin' popcorn.
Now it's on with the show.
Trivia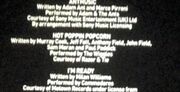 Ringo the Ringmaster sings this song in the Wiggles' concerts from 2009 to 2012.
The song is sung in a PG-13 movie: "Ant-Man".
Appearances
Albums
Videos
Ad blocker interference detected!
Wikia is a free-to-use site that makes money from advertising. We have a modified experience for viewers using ad blockers

Wikia is not accessible if you've made further modifications. Remove the custom ad blocker rule(s) and the page will load as expected.