Hot Potatoes!



Release Date

March 4, 2010

Previous Video

Next Video
Hot Potatoes! The Best Of The Wiggles
is the thirty-fourth Wiggles video, a compilation containing some of their best songs. It was released in 2010, with a
second updated version
released in 2014.
Song List
Bonus Songs
Original Wiggles Film Clips from 1993
Latin American Wiggles Film Clip
Taiwanese Wiggles Film Clip
Credits
Starring Murray Cook as Murray Wiggle
Special Guest Performer: Jamie Redfern
Voice of Dorothy the Dinosaur: Jennifer Andrade
Voice of Wags the Dog: Mic Conway
Voice of Henry the Octopus: Paul Paddick
Executive Producers: Murray Cook, Jeff Fatt, Anthony Field
Director/Producer: Paul Field
Choreographer: Caterina Mete
Director of Photography: Borce Damcevski
Editors: David Roberts, George Barillaro
Production Manager: Kate Alexander
Production Resources Manager: Emily Singlair
Colourist: Aaron Hill
Audio Post: Ben Hardie
Sound Recordists: Emanuel Ruggeri, Jason Wagner
Camera Assistants: Marcus De Giorgio, Aaron Raisenburg
Hair and Make-Up: Alex Wharton, Carolina Pinto
Wardrobe/Props Assistant: Lydia Sarks
Logging/Sound Playback: Luke Field, Brian Stone
Autocue: Rebecca Tossell
Still Photographers: Gary Johnston, Martin Webby
Catering: Glenn Austin, John Groth
Runner: Melissa Cahill, Tim Cook, Michael Jones, Brad Lock
Music Mixed by Alex Keller
Filmed, Recorded and Post Produced at Hot Potato Studios, Sydney
Galleries
Promo Photo Gallery
DVD Gallery
DVD Menu Gallery
Release Dates
Australia/New Zealand: March 4, 2010
United Kingdom: March 22, 2010
North America: July 6, 2010
Trivia
This is the first compilation DVD.
For the first and only time, Anthony states that Maria Field is his daughter, and Clare Field as his niece, in the prologue to Getting Strong!. He also appears with Antonio in the prologue for Toot Toot, Chugga Chugga, Big Red Car, though he doesn't mention he is his son.
This is the third video to be released the year after the album came out, after Wiggly, Wiggly Christmas and Yule Be Wiggling. This makes it the first non-Christmas video to get this treatment.
Sam sings Ooh It's Captain Feathersword, though in the album it is Greg's original version. This is likely due to 20th Century Fox owning The Wiggles Movie, while ABC own its soundtrack.
As a tribute to Steve Irwin, they used the original prologue of Do the Owl taken from Wiggly Safari instead of filming a new one.
Wiggle Time!, released in 1993, is mentioned by Anthony in the prologue of Getting Strong!. Greg is also mentioned in the opening and closing scenes of this video.
Hot Poppin' Popcorn wasn't included on the original CD, because the album it originates from wasn't out yet.
Rockin' Santa! appears in widescreen for the first time, as its original DVD appearance was cropped to full screen.
The instrumental versions of the songs House On The Hillside and A Family Song are played as background music in the Interview with The Wiggles' Mums bonus clip.
Goofs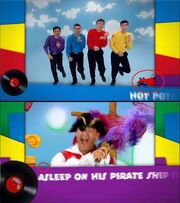 The 1993 bonus clips are mistakenly dated 1991 on the DVD covers and menus.
The opening credits show clips of Jeff and Greg from the 1994 version of The Monkey Dance, while the version that plays in the video is the 1998 version.
In the end credits, a clip of Greg from the 1998 version of D.O.R.O.T.H.Y. (My Favourite Dinosaur) is shown, though that song does not appear in any form. It can be heard in the DVD menu, however, meaning it likely was going to be included but dropped from the final video.
Despite the new song title cards being used to cover up original ones, some can still be seen. Just before the song title comes up for Hot Potato, you can see the front of the original Big Red Car banner title used in Yummy Yummy enter the screen. This is fixed in the 2014 version. Also, if you look very closely during Quack Quack's song title, you can see the top of Captain Feathersword's Pirate ship gliding across the screen, as it was taken from TV Series 1.
I'm Dorothy the Dinosaur! is credited as being from Dorothy the Dinosaur's Party, but it is actually the version used for Dorothy the Dinosaur's Memory Book and her 2nd TV Series.
The Wiggles videography
Murray

,

Jeff

,

Anthony

and

Greg

(1993-2006, 2012, 2018)
Murray

,

Jeff

,

Anthony

and

Sam

(2007-2011)
Anthony

,

Lachy

,

Simon

and

Emma

(2013-present)
Dorothy the Dinosaur

(2007-2012)