"Hot Potatoes: The Best Of The Wiggles" is The Wiggles' greatest hits album, first released in 2009, and again in 2013. The 2009 version features 34 songs, while the 2013 version (as well as both video versions) contains 35.
In 2015, a new album called Hot Potatoes & Cold Spaghetti! was released, combining tracks from this album with ones from Hit Songs and Rarities.
Tracklist
2009 version
2013 version
Video Releases
The video of "Hot Potatoes! The Best Of The Wiggles" was released on DVD in 2010 with the clips of all of the songs from the CD, plus Hot Poppin' Popcorn, and the 1993 clips of Rock-a-Bye Your Bear and Here Comes a Bear. A video was also made based off of the 2013 version of the album.
Bonus DVD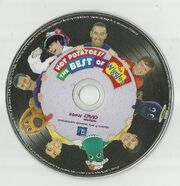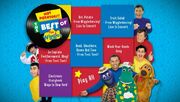 In the United States, a Target exclusive version of the 2009 album came with a bonus DVD that had clips from Toot Toot! and Wiggledancing! Live in Concert, as well as a storybook and the Wash Your Hands song.
Contents
Gallery
Album Booklet
Staff
2009 Version
The Wiggles are. Murray Cook, Jeff Fatt, Anthony Field, Greg Page, Sam Moran
Music Produced by: Anthony Field
Musical Arrangements by: Anthony Field and Dominic Lindsay
String Arrangements by: Dominic Lindsay
Music Mixed by: Alex Keller
Voice of Dorothy the Dinosaur: Carolyn Ferrie, Jacqueline Field
Voice of Wags the Dog and Henry the Octopus: Jeff Fatt
Special Thanks to: Craig Abercrombie, Don Bartley, Kevin Bennett, Anthony Brane, Chris Brooks, Brett Clarke, Anne-Louise Comeford, Mic Conway, Tony Douglass, Roy Ferrin, Jacqueline Field, John Field, Robin Gist, Tony Henry, Anthony Howe, Phil Judd, Rex Kelleher, Angela Lindsay, Dominic Lindsay, Margaret Lindsay, Maria Lindsay, Chris Lupton, Anthony McKenzie, Roy Mollace, Angela Morrison, Natalie Morrison, Terry Murray, John O'Grady, Steve Pace, Simon Pryce, Mark Punch, Ron Rug, Maria Schattovits, Anita Thomas, Greg Truman, George Tseros
Special Guest Musicians: James Burton, Paul Hester
2013 Version
The Wiggles are. Anthony Field, Lachy Gillespie, Simon Pryce and Emma Watkins
The Wiggles in this release are also Murray Cook, Jeff Fatt, Sam Moran, Greg Page
Music Produced by: Anthony Field
String Arrangements by: Dominic Lindsay
Release Dates
2009 version
Australia: May 7th 2009
America (original): September 1st 2009
America (re-release): October 19th 2010
United Kingdom: June 7th 2010
2013 version
Trivia
The Wiggles albums
Murray

,

Jeff

,

Anthony

,

Greg

and

Phillip

(1991)
Murray

,

Jeff

,

Anthony

and

Greg

(1992-2006, 2012)
Murray

,

Jeff

,

Anthony

and

Sam

(2007-2011)
Anthony

,

Lachy

,

Simon

and

Emma

(2013-present)
Dorothy the Dinosaur

(2007-2012)