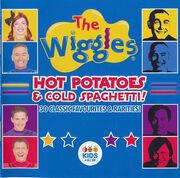 Hot Potatoes & Cold Spaghetti - is a best of album released in 2015. It features 30 songs, most of which were pulled from either Hot Potatoes! The Best of The Wiggles (2013) or Hit Songs and Rarities.
Songs
Notes
Of the 30 songs included, 21 songs had previously appeared on the 2013 version of Hot Potatoes! The Best of The Wiggles, 14 songs had appeared on Hit Songs and Rarities, and 7 songs appeared on both.
The only songs included not available on either album are Emma's Theme and Apples and Bananas
Sam is not featured on the cover or the booklet, despite singing in 3 songs.

Additionally, Anthony appears twice on the cover, grouped in with both the original and current generations.
The photo of the original wiggles was on the Hits Songs and Rarities album and the current wiggles was on the Hot Potatoes: The Best of The Wiggles.
Gallery
Booklet Gallery
Ad blocker interference detected!
Wikia is a free-to-use site that makes money from advertising. We have a modified experience for viewers using ad blockers

Wikia is not accessible if you've made further modifications. Remove the custom ad blocker rule(s) and the page will load as expected.