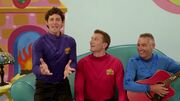 I'll Tell Me Ma is an Irish folk song from the Wiggles' DVD: Apples and Bananas. It was adapted from "Nya Nya Nya."
Song Credits
Haste to the Wedding Version
Wiggles 2014 Version
Emma! Instrumental Version
Written by: Traditional
Arranged by: Anthony Field, Lachlan Gillespie, Alex Keller, Emma Watkins
Producer: Anthony Field
Engineer/Mixer: Alex Keller
Master: Don Bartley
Recording Location: Hot Potato Studios
Mastering Location: Studio 301
Publisher: Wiggly Tunes
Copyright: Universal Music Group
Lachy! Version
Musicians
Haste to the Wedding Version
Wiggles 2014 Version
Emma! Instrumental Version
Guitars: Anthony Field, Alex Keller
Bass: Alex Keller
Bouzouki: George Tseros
Tin Whistle: Anthony Field
Percussion: Emma Watkins
Lachy! Version
Song Lyrics
I'll tell me ma when I go home
The boys won't leave the girls alone
Pulled me hair and stolen me comb
Well, that's alright till I go home
She is handsome, she is pretty
She is the belle of Dublin City
She is courtin' one, two, three
Pray can you tell me, who is she?
Albert Mooney says he loves her
All the boys are fighting for her
They knock at the door and ring at the bell
Saying Oh my true love, are you well?
Out she comes as white as snow
Rings on her fingers and bells on her toes
Ole Jenny Murray says she'll die
If she doesn't get the fella with the roving eye
Trivia
In the original poem, it says 'she is the belle of Belfast city' not Dublin.
Ad blocker interference detected!
Wikia is a free-to-use site that makes money from advertising. We have a modified experience for viewers using ad blockers

Wikia is not accessible if you've made further modifications. Remove the custom ad blocker rule(s) and the page will load as expected.