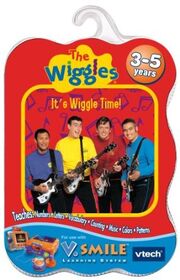 It's Wiggle Time! is The Wiggles video game. It is released on the toddler video game system V-Smile in 2005.
Plot
The Wiggles are preforming a big show and have to find their friends Dorothy The Dinosuar, Captain Feathersword, Wags The Dog, and Henry The Octopus. Thier are four rounds that you must complete teaching kids to use numbers, words, object identification, and basic math. You must avoid things like crabs and rolling buckets in some levels. The Wiggles, (Greg, Murray, Anthony, and Jeff) are all the split up and after each level is beaten, a new friend is found. Greg drives the Big Red Car down the street, Jeff looks in Captain Feathersword's ship dock, Murray looks in the beach, and Anthony looks in Dorothy's garden.There are four mini games that you can also play. The show The Wiggles preform is shown in one of these mini games.
Gallery
Covers
Instrumental Songs
Ad blocker interference detected!
Wikia is a free-to-use site that makes money from advertising. We have a modified experience for viewers using ad blockers

Wikia is not accessible if you've made further modifications. Remove the custom ad blocker rule(s) and the page will load as expected.