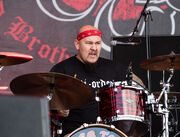 Jackie James Barnes (born on February 4th, 1986) is an Australian musician. He is a drummer, percussionist, pianist and singer. He has been performing since the age of four and has appeared on over 60 releases since 1990. He is currently the drummer in father Jimmy Barnes' band, and most recently has been drumming with The Dead Daisies and The Lachy Doley Group.
Jackie began working with The Wiggles in 2015 on their Dance, Dance! album. His Facebook account is called Thongchai Barnes.
Ad blocker interference detected!
Wikia is a free-to-use site that makes money from advertising. We have a modified experience for viewers using ad blockers

Wikia is not accessible if you've made further modifications. Remove the custom ad blocker rule(s) and the page will load as expected.