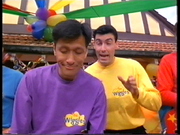 Jeff's Sleeping Skit is a skit that appeared through out the Wiggles videos and shows. It is extremely popular and is now done by Lachy. It has two videos that focus on it.
Trivia
The Wiggles also did a segment based on this on Sprout's Wiggly Waffle where the sproutlets had to help The Awake Wiggles wake him up.
Appearances
The Countdown (1987) (Birth of "WAKE UP JEFF!")
The Wiggles on Play School (1992)
Wiggle Time (1993)
Yummy Yummy (1994)
Big Red Car (1995)
Wake Up Jeff! (1996) (1st main appearance)
Wiggledance! Live in Concert (1997)
Wiggly, Wiggly Christmas (1997)
The Wiggles Movie (1997)
Yummy Yummy (re-recording) (1998)
Wiggle Time (re-recording) (1998)
Toot Toot! (1998)
The Wiggly Big Show (1999)
It's a Wiggly, Wiggly World (cameo) (2000)
Wiggly TV (2000)
Yule Be Wiggling (2001)
Wiggly Safari (2002)
Wiggle Bay (2002)
Whoo Hoo! Wiggly Gremlins! (2002)
Space Dancing (2003)
Top of the Tots (2004)
Cold Spaghetti Western (2004)
Live Hot Potatoes! (2005)
Sailing Around the World (Cameo) (2005)
Here Comes the Big Red Car (2005)
It's Time to Wake Up Jeff! (2006) (2nd main appearance)
Splish Splash Big Red Boat (2006)
Wiggledancing - Live In The USA (Several Times) (2006)
Racing to the Rainbow (2006)
Getting Strong! (2007)
Pop Go The Wiggles (2007)
Sing a Song of Wiggles (2008)
The Wiggles Go Bananas! (2009)
Hot Poppin' Popcorn (2009)
Let's Eat (2010)
Ukulele Baby! (2011)
Surfer Jeff (2012)
Celebration (2012)
Gallery
See Also
Ad blocker interference detected!
Wikia is a free-to-use site that makes money from advertising. We have a modified experience for viewers using ad blockers

Wikia is not accessible if you've made further modifications. Remove the custom ad blocker rule(s) and the page will load as expected.