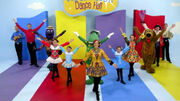 Jess' Song is an instrumental Wiggles song from Rock & Roll Preschool written by Steve Pace and Alex Keller. Comparisons can be made from this song and The Mini Foxie Puppy Dance.
Song Credits
Musicians
Ad blocker interference detected!
Wikia is a free-to-use site that makes money from advertising. We have a modified experience for viewers using ad blockers

Wikia is not accessible if you've made further modifications. Remove the custom ad blocker rule(s) and the page will load as expected.