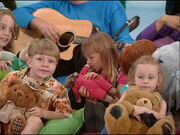 Josephine Perez is one of the people in Yummy Yummy (1998 video), Yule Be Wiggling and The Wiggles Go Bananas!. She has a sister named Rebecca.
About Josephine Perez
Gender: Female
Aged: (8-18)
Favorite Color: Dandelion
Birthday: April 2, 1990
Family: Lives with her sister Rebecca Perez.
Hobbies: Dancing, Doing Math, and Playing with her dolls.
Josephine Perez's outfits
a hot pink t-shirt.
a dolphin pink t-shirt, and plum pants.
a kangaroo costume.
Gallery