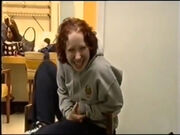 Kristy Talbot is one of the people who plays Wags the Dog, Henry the Octopus and Wiggly Dancer. She is from Brisbane, Queensland. Before she was a part of The Wiggles, she was one of the performer in the opening ceremony of the 2000 Sydney Olypmic Games and closing ceremony of the 2000 Paralympic Olympic Games. Her recent appearance with the Wiggles was Hot Poppin' Popcorn in 2009. She is currently working at Mad Dance House [1] in her hometown Brisbane, Queensland.
Gallery
Ad blocker interference detected!
Wikia is a free-to-use site that makes money from advertising. We have a modified experience for viewers using ad blockers

Wikia is not accessible if you've made further modifications. Remove the custom ad blocker rule(s) and the page will load as expected.