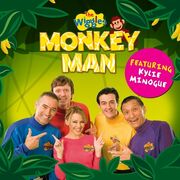 Kylie Minogue
(b. May 28, 1968) is an ARIA award inductee for her music. She is also a famous actress across Australia, notable for roles such as Charlene Robinson in
Neighbours
and
Astrid Peth
in the 2008
Doctor Who
Christmas special,
Voyage of the Damned
. In 2009, she sang the song Monkey Man with The Wiggles on their album/DVD Go Bananas! 100% of the donations from the royalties to this song went to UNICEF Australia. She is the older sister of
Dani Minogue
and Brendan Minogue. She is the aunt of Ethan (b.2010).
Kylie is the only pink Wiggle out of all the Wiggles. Kylie Wiggle is also the shortest ever (5'0)
Gallery