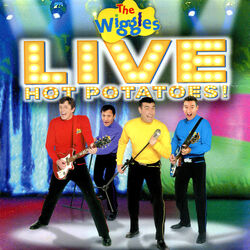 "LIVE Hot Potatoes!" is the first ever live album released by The Wiggles. It was recorded from the December 20, 2003 performance of their Lights, Camera, Action! Show tour, and was released on the 1st of January 2005. It won the 2005 ARIA Music Award for Best Children's Album. And The accompanying video was released on March 3, 2005.
Tracklist
Personnel
The Wiggles are:
Murray Cook, Jeff Fatt, Anthony Field and Greg Page
Produced By: Anthony Field
Musical Arrangements: The Wiggles,
Dominic Lindsay
Vocals: Greg Page
Backing Vocals: The Wiggles, Craig
Abercrombie, Sam Moran, Greg Truman
Manzillas: Brett Clarke, Ryan De Saulnier
Guitars: Murray Cook, John Field,
Rex Goh, Greg Page
Bass: John O'Grady
Keyboard: Jeff Fatt, Steve Blau,
Dominic Lindsay, Tony Gardner,
Phil Grove
Brass: Dominic Lindsay, Craig
Abercrombie, Sam Moran
Drums: Tony Henry
Percussion: Dominic Lindsay, Craig
Abercrombie
Recorded at the Sydney Entertainment
Centre by Robin Gist. Mixed and
mastered at Electric Avenue Studios,
Sydney, Australia by Robin Gist
Release Dates
Australia: January 1, 2005
America: January 11, 2005
Trivia
This is The Wiggles' first ever live album.
The overture is longer on this album than the video itself. Here, it has more songs such as Rock-a-Bye Your Bear.
The booklet shows that Murray and Jeff's names were in the credits of Rock-a-Bye Your Bear but Anthony and Greg actually wrote it themselves.
This is the first album that won at the Aria awards since Toot Toot!.
This album contains a bonus video clip of Lights, Camera, Action, Wiggles!
Gallery
The Wiggles albums
Murray

,

Jeff

,

Anthony

,

Greg

and

Phillip

(1991)
Murray

,

Jeff

,

Anthony

and

Greg

(1992-2006, 2012)
Murray

,

Jeff

,

Anthony

and

Sam

(2007-2011)
Anthony

,

Lachy

,

Simon

and

Emma

(2013-present)
Dorothy the Dinosaur

(2007-2012)