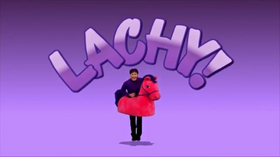 The Lachy TV Show premiered on 5th September, 2016 at 8:25am on ABC Kids in Australia. It has since aired in Treehouse in Canada, but has yet to be made available in America (though the video of the same name containing select episodes is currently streaming on Hulu).
It is the second spinoff focused on only one Wiggle, after the previous year's Emma! TV show. It runs the same length of 3-4 minutes, though it consists of 4 less episodes, 26 total. Unlike Emma!, it contains no scenes of spoken dialogue, instead songs are used to transition from scene to scene (there are some short spoken parts during songs, but mostly remains singing-only). This is similar to the Wiggle Town! series, which also features singing exclusively.
Episodes
Credits
Trivia
The Emma and Lachy Show will tour NSW and QLD in January/February 2016.
Some of the sets were reused for The Wiggles' Dance Dance! DVD.
Gallery
Behind the Scenes
Promo Pictures