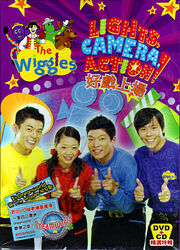 Lights, Camera, Action! is a Taiwanese Wiggles DVD released in 2006.
Plot
Intro - where the Taiwanese Wiggles and the Wiggly Friends are in Wiggly Animation setting up a show together.
The Taiwanese Wiggles greet everyone and invite them to wiggle along.
Song #1: Get Ready to Wiggle
The Taiwanese Wiggles introduce the next song.
Song #2: Lights, Camera, Action, Wiggles!
Dorothy shows off her dance moves to Danny.
Song #3: Dorothy (Would You Like to Dance?)
Vivi and Samuel introduce Wiggly Animation.
Song #4: Uncle Noah's Ark - Wiggly Animation
Arthur is with some of his young friends who are playing with clay. Most of all, hammering the clay is so much fun!
Song #5: Joannie Works with One Hammer
Arthur, Samuel and Vivi try to wake up Danny but it never works.
Song #6: Wake Up Danny!
Song #7: Little Brown Ant - Wiggly Animation
The Taiwanese Wiggles hear lots of outside sounds. But how could they figure out all of them? They can ride in the Big Red Car!
Song #8: Let's Go! (We're Riding In The Big Red Car)
Captain Feathersword starts to tickle everybody, and he can't stop. He decides to do a pirate dance instead.
Song #9: Captain Feathersword
Samuel announces that it's time for another Wiggly Animation.
Song #10: Gulp Gulp - Wiggly Animation
The Taiwanese Wiggles prepare for a Wiggly Party.
Song #11: Wiggly Party
Song #12: Henry's Underwater Big Band - Wiggly Animation
Danny teaches everyone how to play the guitar.
Song #13: Play Your Guitar with Danny
Song #14: Pufferbillies - Wiggly Animation
Arthur introduces a traditional Jamaican Caribbean song that is fun to sing.
Song #15: Brown Girl in the Ring
Samuel, Danny and Vivi introduce Wiggly Animation.
Song #16: Vegetable Soup - Wiggly Animation
Vivi introduces a traditional Irish dance.
Song #17: Di Dicki Do Dum
Arthur and the kids use paint droppers to paint. It looks a bit like it's raining.
Song #18: I Love It When It Rains
Vivi introduces the next song about how the captain is best at things.
Song #19: Go Captain Feathersword, Ahoy!
Song #20: Take A Trip Out On The Sea - Wiggly Animation
The Taiwanese Wiggles bid farewell to everyone.
Song List
Gallery
Promo Pictures
Trivia
The saturation/color of the video is slightly off.
Some of the transitions in this video are stretched out more compared to the ones used in TV Series 4 and 5. For example, the guitar transitions show more of the guitars and the purple background.
The full versions of the animated Taiwanese versions of Take A Trip Out On The Sea and Little Brown Ant can be seen here.
The animations for I Climb Ten Stairs, I'm a Cow, and Five Little Ducks did not appear at all in this video, despite appearing in both the Taiwanese and Australian Wiggles series.
Captain Feathersword is portrayed by Kaeng Chan in this video.
This was the last Taiwanese Wiggles video to be released, and the only video to not feature Anni or Carlos.
The opening of this video appears to be in Wiggly Animation featuring title cards being showed in a list of these appearances: Arthur, Danny, Samuel and Vivi. Arthur also happens to be holding paperwork with the names written.
The tune to "Uncle Noah's Ark" is A instead of G. 
This was the first and only Taiwanese video to be distributed by Catalyst Logic.
This is the only Taiwanese video to have end credits.
A copy of this DVD is currently hanging up for display at The Wiggles Exhibition at the Powerhouse Museum .
Cover