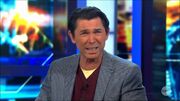 Lou Diamond Phillips (b. February 17, 1962) is an American actor, director, singer and guest star in Rock and Roll Preschool. His father was an American of Scot-Irish and one quarter Cherokee descent. His mother who is a native of Candelaria, Zambales in the Philippines is of Filipino Spanish descent. He married makeup artist Yvonne Boismier and they have one daughter, Indigo Sanara Phillips (b. 2007). He guest stars on Apples and Bananas and Wiggle Picnic from Ready, Steady, Wiggle! (TV Series 2).
Gallery
Ad blocker interference detected!
Wikia is a free-to-use site that makes money from advertising. We have a modified experience for viewers using ad blockers

Wikia is not accessible if you've made further modifications. Remove the custom ad blocker rule(s) and the page will load as expected.