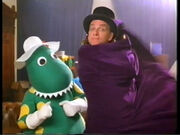 This was first heard on The Wiggles Movie. It usually appears in a scene about doing magic, such as in the second Wiggles TV series and the re-recordings of Wiggle Time and Yummy Yummy. It also plays in The Wiggly Big Show as the Tap Wags song, and It's a Wiggly, Wiggly World during the intro to Tie Me Kangaroo Down Sport.
Song Credits
Musicians
Trivia
Video Appearance
Album Appearance
Ad blocker interference detected!
Wikia is a free-to-use site that makes money from advertising. We have a modified experience for viewers using ad blockers

Wikia is not accessible if you've made further modifications. Remove the custom ad blocker rule(s) and the page will load as expected.